AEG | Beko | Bosch | Electrolux | Hotpoint | LG | Maytag | Miele | Samsung | Smeg | Siemens | Whirlpool | Zanussi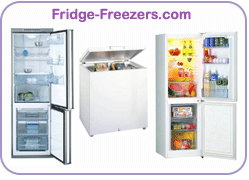 Fridge Freezers - Compare Prices And Information
Welcome to Fridge Freezers dot com - the new UK website providing information, specifications and prices for all top named brands of fridge freezer in the UK. We're here to help you save money!

Why spend more than you need to on new fridge freezers? Use our easy-guide pages to compare prices on all major fridge freezer models and brands. Names including AEG, Electrolux, Beko, Bosch, Candy, Daewoo, Hoover, Hotpoint, Indesit, LG, LEC, Miele, Naiko, Prestige, Proline, Samsung, Servis, Siemans, Smeg, Whirlpool, Zanussi and more.

Use our easy to navigate pages to find all the information you need about your perfect new fridge freezer. Upright, American fridge freezers, black, silver, frost free - whatever you desire you will find it here..


New from Whirlpool
With a fridge capacity of 246 litres the new WBC3525NFS fridge freezer from Whirlpool comes with a flat back for easier installation and cleaning. The Whirlpool WBC3525NFS has extra deep door storage with crisper drawer, cooler compartment, reversible doors, bottle rack, egg tray, interior fridge light, 4 door balconies & 4 Shelves including crisper cover.

Other great features of this fantastic new fridge freezer include Pizza Balconies, Deep Door Balconies, Fresh Control Compartment, Anti Bacterial Filter with Microban and 4 Shelves including crisper cover. For more on this fantastic new fridge freezer visit www.wbc3525nfs.com
Fridge Freezer UK Suppliers


---
---
About Fridge-Freezers .com
Find information and compare prices of all fridge freezers at UK suppliers including Comet, Currys, Dixons, Tesco, John Lewis, Asda, Sainsburys, Appliance Direct, Empire Direct, Tribal UK, 24 7 Electrical, Appliance Deals, Boots and many more. We cover all brands and models, such as Samsung, Whirlpool, Bosch, Beko, Hotpoint and more...

Fridge Freezers dot com offers a free service whereby our website vistors can browse our pages and compare prices at different UK suppliers across a wide range of fridge freezer appliances.

These pages include the top UK suppliers of frost free and static fridge freezers including the popular American style models.

Simply select the brand name you are looking for e.g. "Samsung" and you will be presented with the most popular models.

Moreover once you have a model in mind you can select to compare prices for those particular models of fridge freezers at all major UK suppliers. Whatever you are looking for be it a cheap budget fridge freezer, a premium model, American style or whatever, you are sure to find what you are looking for on these pages.

The pages are easy to navigate and designed to help you find the best deal on the fridge freezer you are looking for.
---
Frost Free Fridge Freezers
Amongst one of the most important features being considered these days is whether or not a fridge freezer is Frost Free. Frost Free - choose a 'Frost Free' fridge freezer and you will never have to worry about defrosting your fridge freezer again.
Combination Fridge Freezer
Combination fridge freezer simply means your fridge and freezer storage is provided in one appliance or unit. Look at the split between the fridge and freezer areas and choose the combination that best suits your needs and the type of food you eat. If you shop regularly, prefer fresh produce and only use the freezer compartment for storing things like frozen vegetables, ice cream and ice cubes - go for a larger fridge area - the combination fridge freezers may be the perfect option.

But if you tend to buy in bulk and prefer the convenience of frozen food - choose a model with a bigger freezer. Storage capacity is measured in cubic feet, with a capacity of around 9 to 10 cu.ft. being adequate for most families

Upright Fridge Freezer
The term upright fridge freezer simply relates to the "tall narrow" configuration of upright fridge freezer units that have tended to replace the older more cumbersome "chest fridge freezers".
American Style Fridge Freezer
The term "American Style Fridge Freezer" often referred to as American Fridge Freezer, relates to the new very popular upright and very large volume fridge freezers that were originally popular in the USA. These American Style Fridge Freezers are often large upright fridge freezers with two doors running the full length from top to bottom. Many of these models include an ice dispenser on the fridge freezer door so you can dispense ice without opening the fridge or freezer door.
Integrated Fridge Freezer
Fridge freezers are also available as integrated or semi-integrated fridge freezers. An integrated fridge freezer fits neatly in to your kitchen, with the door covered by a panel that matches your kitchen cupboards. When closed, the integrated fridge freezer is completely hidden and looks like just another kitchen unit.

Your kitchen may need to be specially adapted to accept a integrated appliance if it already isn't.

Slimline Fridge Freezer
Slimline Fridge Freezer appliances are designed for where space is an issue in a kitchen or other storage area. A slimline fridge freezer will be smaller but more thoughtfully designed than a standard fridge freezer with the needs of the user in mind.


Fridge Freezer Brands Available In The UK
We have included on these pages all the top named fridge freezer brands available from UK suppliers such as; Comet, Currys, Dixons, Tesco, John Lewis, Asda, Sainsburys, Appliance Direct, Empire Direct, Tribal UK, 24 7 Electrical, Appliance Deals, Boots and many more.

AEG
AEG fridge freezers are widely available in the UK. AEG rcently merged with Electrolux. In 2004, appliances from AEG became designated AEG-Electrolux to signify the link with Electrolux. AEG-Electrolux provides excellence in performance and German design, which is why they say that each appliance is created and developed to be Perfekt in Form und Funktion. AEG fridge freezers including integrated, combination, frost free, American style and many more. You can view the AEG range here; AEG Fridge Freezers

Bosch
Bosch fridge freezers represent one of the most popular choices amongst UK consumers. Bosh provide a wide selection of fridge freezers including slimline, frost free, American style and many more. You can view the Bosch range here; Bosh Fridge Freezers

Beko
Beko manufacture one of the most popular brands of fridge freezers in the eyes of UK consumers. The Beko refrigeration range and fridge freezers combine the latest technology and product innovation with stylish, contemporary design. Whether small and compact or sleek and space age, there's a Beko that's right for any kitchen. See the Beko range here; Beko Fridge Freezers

Electrolux
Electrolux has a wide range of fridges and freezers, in different sizes and with various features to help you relax and worry less about safe food storage or defrosting your freezer less often, or even ever again! The Electrolux fridge freezer range is competitively priced and pffers great reliability. See the Electrolux range here; Electrolux Fridge Freezers

Hotpoint
Hotpoint fridge freezers are designed to look good and cope with modern life. Storages features like flexible glass shelves, deep salad crispers and Big Bin freezer baskets mean out fridge freezers can handle anything a weekly shop can throw at them. The Hotpoint range of appliances is extensive and includes a great selection of fridge freezers. View the Hotpoint range here; Hotpoint Fridge Freezers

LG
Amongst the LG range of appliances are the popular American Style fridge freezers. The American style fridge freezers, GR-S592QVC and GR-S462QVC, have three different cooling systems that distribute cool air evenly throughout the entire fridge body. The door, side and fan cooling systems ensure that food is kept fresher for longer no matter where it is stored in the fridge. The LG GR-S592QVC and GR-S462QVC fridge freezers feature an Electronic Control System which automatically maintains a constant temperature in the fridge regardless of the climate outside. View the LG range here; LG Fridge Freezers

Maytag
The Maytag Fridge Freezer range offers premium quality reliability and great value for money. America keeps its cool with Maytag. Not just by making sure fresh food is always at the perfect temperature. Or that chilled, filtered water is always on tap. Or that freezers are quick and easy to access. But also because of what Maytag says about style...imagination...a flair for the sleek, the beautiful, the refined. And with four stunning models to decide between, choice is simply a matter of taste. View the Maytag range here; Maytag Fridge Freezers

Miele
The Miele Fridge Freezer range is another top choice amongst UK online shoppers. Miele is a German manufacturer of high quality domestic appliances and commercial equipment. It was founded in 1899 by Carl Miele and Reinhard Zinkann and has always been a family-owned, family-run company. See the Miele range here; Miele Fridge Freezers

Samsung
The Samsung Fridge Freezer range offers choice, quality and highly competitive prices. The range includes an extensive selection of American Style fridge freezers including the RSH1DBBP Samsung Black Fridge Freezer. With the Samsung brand you know you can rely on great quality service. Samsung Electronics Co. Ltd has just been named as the number one consumer electronics brand in the world* and is an acknowledged leader in the digital convergence revolution. See the Samsung fridge freezer range here; Samsung Fridge Freezers

Smeg
Smeg Fridge Freezers are truly unique in design. Famed for their original shape and varied bright colours the Smeg range is a popular choice amongst people wishing to spend that little bit extra. See the Smeg unique fridge freezer range here; Smeg Fridge Freezers

Siemens
For over 150 years Siemens has been the leading innovator in home appliances, ensuring that they meet your needs through exhaustive research and testing. All SIEMENS fridges and freezers are built to last. And rigorous testing ensures that Siemens products meet all the requirements of its customers. See the Siemens range here; Siemens Fridge Freezers

Whirlpool
Whirlpool have over 15 models to choose from including the 20RID3 and 20RBD3, and are another top choice amongst many UK consumers. The Whirlpool range includes various sized models which range from integrated models through to combination models. The range is available in a selection of colours. See the Whirlpool fridge freezer range here; Whirlpool Fridge Freezers

Zanussi
Knowing what you want out of a fridge freezer appliance can be a task in its own right. The Zanussi range is another reliable and quality offering with value prices suited to meet your requirements. You can view our selection of the Zanussi fridge freezer range here; Zanussi Fridge Freezers

You can see exactly how many fridge freezer models we list here: Fridge Freezers
Other Electricals - Sony Bravia
Introducing the new KDL40V3000 - KDL-40V3000 Sony Bravia: Experience the ultra-slim V-Series KDL-40V3000 with BRAVIA ENGINE and Live Colour Creation for intense colours and unbeatable picture detail in Full HD 1080p resolution. Read more here: KDL40V3000

40" Full HD. KDL40D3500 LCD Sony BRAVIA TV features stunning 6.2 mega pixel resolution, BRAVIA Engine picture enhancement technology, 24p. The KDL-40D3500 also features; True Cinema to create a realistic cinema experience at home and 2 HDMI inputs for easy connectivity to High Definition sources such as Blu-Ray. Read more here: KDL40D3500

KDL40X3000 - 40" Sony KDL-40X3000 LCD Digital TV Full 1080p HD Ready: 40" HD1080 X3000 BRAVIA LCD TV gives you unlimited style with optional different colour frames. The KDL40X3000 offers the ultimate viewing experience is provided by BRAVIA Engine Pro picture enhancement technology, Live Colour Creation producing vibrant colours and Motionflow 100Hz for greater smoothness. Read more here: KDL40X3000
Hotpoint WD440 Washer Dryers
Hot picks for washer dryers. Our hot picks of the month are Hotpoint washer dryers.

This Hotpoint Aquarius WD440P comes equipped with 23 wash programmes to choose from, or alternatively you can use the quick wash function if you just want to quickly refresh clothes. The WD440P is a cold fill machine, meaning that it wont draw all the water from your hot water supply. Read more here: www.wd440p.co.uk

Our second hotpick of the month is the: The Hotpoint WD440G allows you to dry most of the wash load in one go rather than having to halve it and do it in two, as happens with many other machines. Learn more: www.wd440p.co.uk


---
Need Finance To Buy A Fridge Freezer? Loan Applications...
If you are looking to buy any type of electrical goods be it a flatscreen HDTV, fridge freezer, microwave oven, home cinema system or whatever, it is always possible to apply for finance. Whilst we are unable to make any guarantees we would like to recommend the following (unasociated) resources. For a UK unsecured loan, that is a loan that does not require you to use your property as security; find out more here.

Should you be a tenant as oposed to a home owner you can always make a no fee loan application here: tenant loan uk... in order to secure finance for a new fridge freezer. The same applies should you be seeking finance but have a poor or bad credit history. For help with getting loan finance with a bad credit history click here...

With the provision of a fast online loan application forms, it is todaymade easy to apply for bad credit consolidation loans. Brokers are at your service 24 hours a day that can assist you in understanding varied aspects that surround particular loans you may prefer to apply for.

Looking for a personal unsecured loan where the lenders recommended have access to the majority of UK Lenders. Where you know agents will do all the work for you and only deal with reputable unsecured lenders, mainly owned by major banks. This means that who ever you deal with the agent able to search the market, and compare UK unsecured loans on your behalf, and find the best possible unsecured loan right for you. Even if you have bad credit and want to compare bad credit unsecured loans there are a vast number of lenders who specialise in this.

An estimated 1 in 5 people in the UK have bad credit, so you're not alone. This poor credit has brought about an increase in bad credit loan companies and has encouraged lenders to offer a wider range of competitive deals on bad credit secured loans and bad credit unsecured loans.

It is generally easier to get a lower rate if you are a homeowner, because you can then get a secured loan but this is now changing with an ever increasing availability of lower rate unsecured loans being available. Again we recommend no fee lenders who deal with bad credit unsecured loans day-in-day-out. So even if you are a UK non home owner, still live at home with your parents, or are a tenant, the options are still almost limitless for this type of UK tenant loan or non-homeowner loan as they are known.
---
---
Beko | AP930X | AB910W | AB910S | CA5411FFS | CDA563FW | CDA653FS | CA5411FFW | CDA648FS | CDA556FW
All Fridge Freezer Models A - Z
Fridge Freezer:
20rbd3
20rid3
ab910s
ab910w
ap930x
arc2283
arc4170
arc7472
arc7612
art477-4
ca5411ffs
ca5411ffw
cda543fs
cda543fw
cda556fw
cda563fw
cda648fs
cda653fs
cda751fs
cr330a
enb35400w
enb35405s
enn28600
fa311x2
fa550x
ff187e
ff187m
ff187mp
ff187mx
ff200eg
ff200tp
ff200tx
fruu2vaf20
gc299ba
gr419bsca
grg227stba
grl207tuja
gwb227yuqa
ka58na40gb
ka58np90gb
kan58a40gb
kan58a50gb
kdv20v00gb
kdv24v00gb
kdv28v00gb
kfn8452sd
kfn8662sd
kg32u193gb
kgn33v00gb
kgn34x01gb
kgn34x61gb
kgn39a60gb
Ki28va40gb
Ki32va40gb
Ki38va40gb
kiv38v00gb
ktn4352sded
msz802df
msz803df
rfa52p
rfa52s
rl33sbns
rl33sbsw
rl38Sbsw
rl41wgps
rl41wgtb
rs21dpsm
rsh1dbbp
rsh1dbrs
rsh1dtmh
rsh1dtsw
rsh1nhmh
rsh1nhsw
rta42p
s70348kg
s75358kg3
s75398kg3
s75400kg
sov026tb
sov225pw
sov626zb
zi91812ka
znb323w
zrb2925s